Ways we can help
Brand Recognition
Company Logos on Apparel
Company Logos on Signage
Company Logos on Gifts
Company Logos on Office Supplies
Employee Appreciation
Branded Employee Gifts
Branded Employee Experiences
Employee Welcome Gifts
Employee Anniversary Gifts
Customer Retention
Personalized Customer Gifts
Brand Customer Appreciation Events
Customer Loyalty Programs
Customer Branded Product Sites
Event Enhancement
Branded Tradeshow Booths
Custom Signs and Banners
Branded Promo Items
Branded Swag Bags
How we are different
Concierge approach
We take a consultative approach and pride ourselves on upfront and honest communication.
Brand centered approach
We don't look for colors that are close to yours, we work hard to match your colors down to the PMS code(s).
Detail-oriented
We provide professional work and care about the quality and specific details of every job down to the placement, size, and aspect ratio.
Value and quality
We offer unmeasured value in the quality products and customer service that we provide our clients.
Thanks so much! This has been such an easy and fast process! You guys are the best!
Cindy P.
Contact us

Feel free to call, email, or schedule an appointment using our concierge consult calendar to discuss your specific needs.

Place your order

After we have gathered all of the pertinent details, we'll discuss your solution options, answer any questions, create an estimate, and place your order.

Share and enjoy

You will receive your order from us. We'll follow up to make sure that everything is perfect. Then you can share the products with your team or clients for all to enjoy.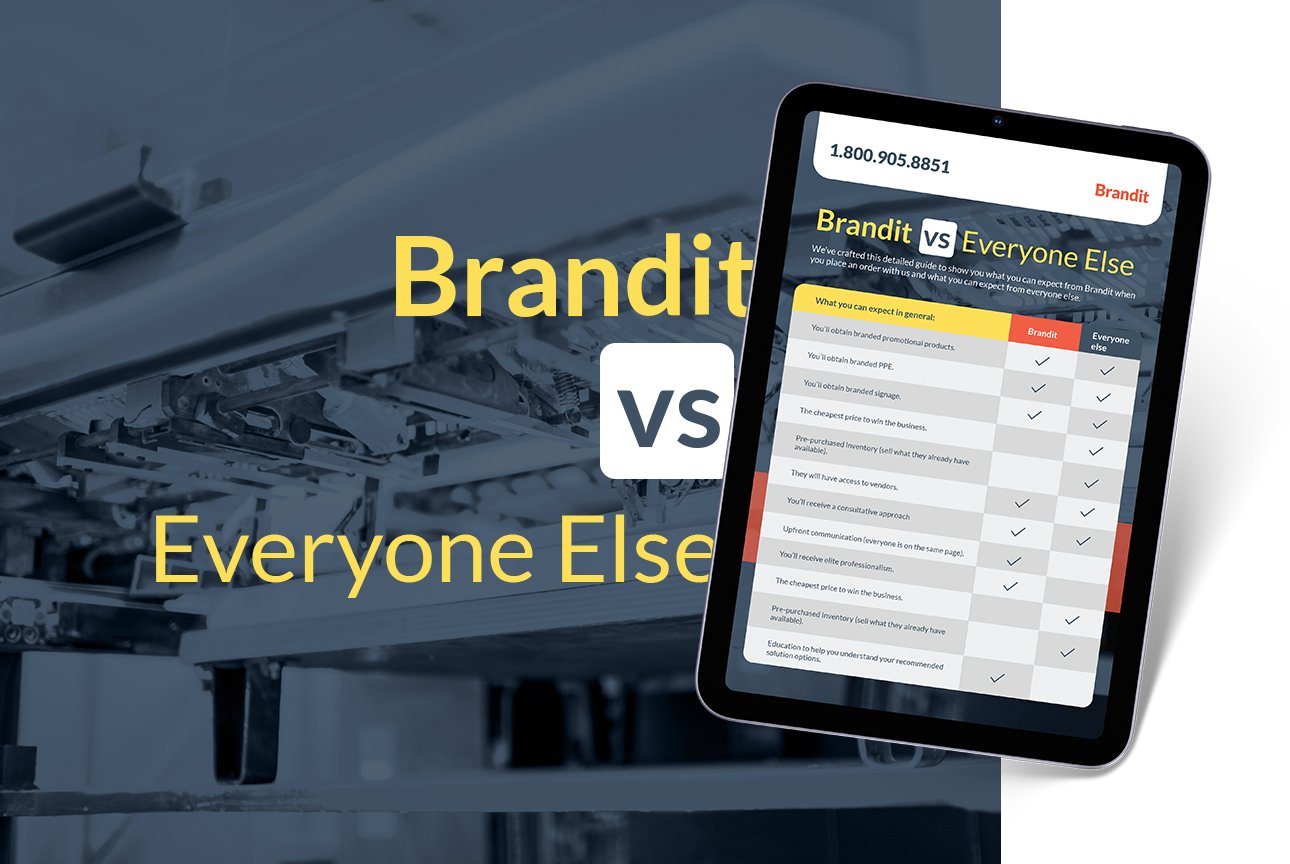 All promotion companies aren't the same
We get it. We know there are a lot of promo companies out there that offer branded products but we want you to join our tribe. We crafted this detailed guide to show you what you can expect from Brandit when you place an order with us. Download our Brandit vs Everyone Else Guide to see what makes us different.